Gates
RYMET Roman Rydzyński Sp. J. deals with the distribution, selling and installation of gates and fences. We are the local authorized dealer of the Wisniowski Company, the biggest Polish distributor of gates/fences. Their products are known for their high quality and impeccable aesthetics.
Sectional Garage doors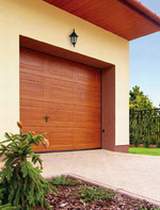 These type of doors have a wide range of designs and colors, so they will look great on every garage. And safety is one of the main features of these doors. Specially profiled panels prevent fingers from being trapped, not only in places where parts connect but also in places where hingers and pass-through doors are mounted. The closed construction of the slide protects hands from getting hurt and overload switch ensures the gate will stop and return to the open position if it meets resistance while closing or an obstacle is in the light of a passage. Due to the vertical opening you can freely park your car directly in front of the garage. It is an important advantage, especially when the garage is near a busy street. The perfect thermal and acoustic isolation is ensured by steel 40 [mm] thick sections, filled with polyurethane foam and the door is sealed along the entire perimeter.
Overhead garage doors
Overhead garage doors are the simplest and the least expensive doors, and still offer great quality and value. Depending on your own preference, you can order the garage door with or without thermal insulation, with or without pass-through doors, etc.
Every gate or garage door can be installed with an automatic operation unit which increases the ease of use and comfort of the user.
And a safety overload switch, in the automatic operation unit, will stop the gate/garage door and return it to the open position if the gate/garage door encounters any obstacle while or the photocells detects an obstacle in the path of the gate/garage door. For safety, the complex of a specially selected tension springs which balance the weight of the gate is wrapped in sleeves, which prevents fingers from being trapped in the springs. The shape of the door guides and the system of sliding rolls mounted on bearings ensures stable movement of the gate/garage door and prevents the door from derailing from the track.
Garage roller-shutter doors
Garage roller-shutter doors offer comfort, functionality, economy and security. Every door is equipped with an actuator, which ensures the comfortable operation of the door. A roller-shutter door is the only type of door which includes an electric drive in the basic package (at no extra charge). The door is steered with with two switches. One internal switch and an external switch, which is operated with a key. If you order an additional remote control, you will be able to drive into your garage safely and comfortably, regardless of the weather. In the case of a power blackout, you can open the door manually, using a crank.
By installing door gazed profiles, you can use natural light to brighten the interior of a dark room and save energy, by not having to use artificial light in a dark room. For energy efficiency, a lower chamber seal, brush seals in slides and a seal screwed to the lintel guarantee a minimal loss of heat in the garage.
Safe usage of the garage door is guaranteed by a system of photocells, and an emergency brake, which is standard equipment on all doors, as that are 9m2 or larger. For doors smaller than 9m2, these safety items may be installed as additional equipment.
Industrial sectional doors
Makro Pro and Makro Pro Alu are modern segment doors intended for industrial buildings, food-industry buildings, warehouses, workshops, administrative buildings. Due to their special design, these doors can be tailored to the needs of each customer. These doors are available in standard dimensions, which allow architects to design a building to use a standard garage door and allows the customer to buy the door at a good price. And these doors can also be manufactured in non-standard dimensions at the request of the customer. Doors are available in all dimensions up to a width of 8m and a height 5m.
The doors are equipped with a system of seals along the entire perimeter and seals between the panels, which provide good thermal insulation inside the building. The door jacket is made of steel segments, which are 40 mm thick, and filled with polyurethane foam.
A door segment may be equipped with a pass-through door with a self-closing mechanism, that enables free movement through the garage door. Windows or aluminum glazed segments let additional light into the room from outside and allow for controlling the area in front of the door. The door can also be equipped with a ventilation grating or a fume extractor vent.
Industrial roller-shutter doors
BR-100 roller doors are standard automatic doors, easy to operate and equipped with a three-phase 400 V compact actuator with a control station that includes an up-stop-down pull-switch. The modular structure of the steering unit allows for expanding its function by adding additional elements. Optional equipment includes: a code lock, a magnetic card reader and a remote control.
The door structure is made of elements protected from corrosion. The sheating and slides are made of aluminum coated with a high quality varnish; the brackets are galvanized and the steel winding shaft is painted.
If you want to let in more light into a dark room, you should consider a door with glazed profiles. This solution will allow you to save electrical energy. Glazed profiles will also help you to control the area in front of the door without opening it. Glazing can also increase the aesthetic value of the door.

Residential Fences
Due to the enormous number of available designs and rich color palette it is possible to adjust the fence design to every premise, irrespective of the size of the area or the landscape. This adaptability is possible because of a modular system which includes gates, segments, wickets and pots. These fencing elements can be freely combined in various designs. And long-term use is guaranteed by hot dip galvanizing of all elements of the fence. Additionally, powder coating can protect the surface and aesthetics of the fence.
Industrial Fences
Our industrial fences are characterized by three basic features:
Cost effectiveness - Modern production technology and standard dimensions of the elements allow us to offer great products at a great price.
Durability - we use high quality material and the latest technology to provide great durability. All elements of the fence are made of steel, hot dip galvanized and powder coated.
Rich Color Palette Availability: Industrial fences are available in standard colors and in 210 colors from RAL palette on client's request. Such a wide range of colors allows for unlimited possibilities and allows us to match the color of the fence to the colors of scenery, landscaping, fixtures or finishing elements of the building. Mesh fences can be also manufactured, using only galvanized steel..
Automatic
operation units Automatic operation units ensure the comfortable operation of the gate/garage door in any weather condition. Automatic drives allow you open/close each gate in an easy and safe way, avoiding any unnecessary effort. Available types of automats:
Optimum drive unit and Optimum Eko drive units - are designed for the sectional and overhead garage door. It moves along truck equipped with toothed strip, powered by transmission of 24 [V], enable to adjust the power regulation, the function of soft start and stop (for sectional doors) and automatic closure
Automatic operation unit for a sliding gate - the operation unit is placed in the gate post. It is supplied with voltage 24V and equipped with the function of slow start and stop. In practice, it is equivalent to smooth and silent operation of the gate, effective opening and closing without unnecessary jerks.
Automatic operation unit for a double-leaf gate - The operating unit is placed on the pole and on gate leaves, on special horizontal bars. In case of a blackout the gate can be easily opened manually by unblocking the actuators: one actuator if it is necessary to open one wing or two if both gate wings must be opened. The device may cooperate with photocells.

Source: www.wisniowski.pl